Nutrition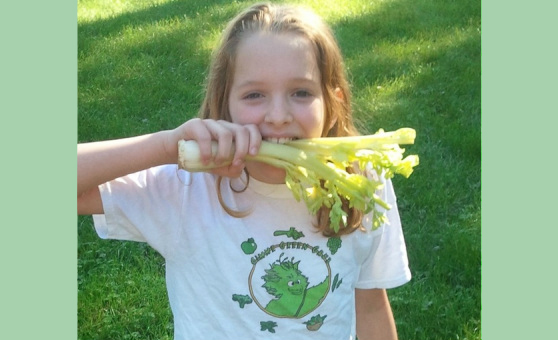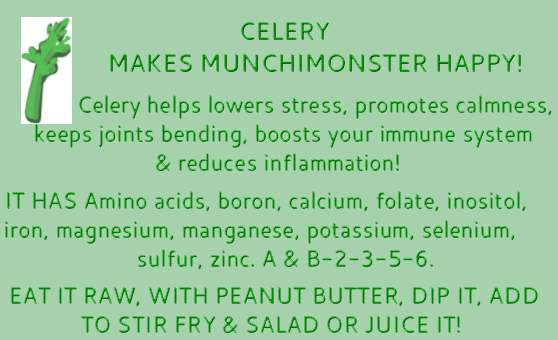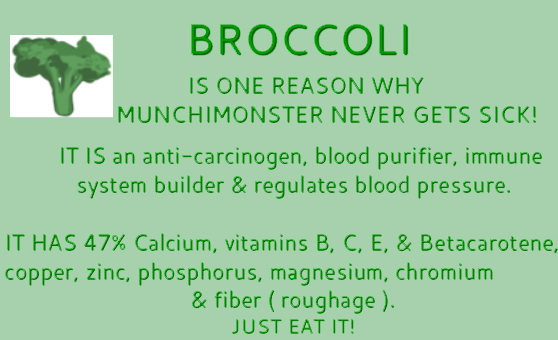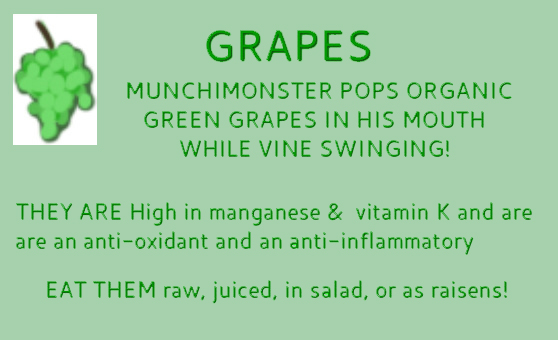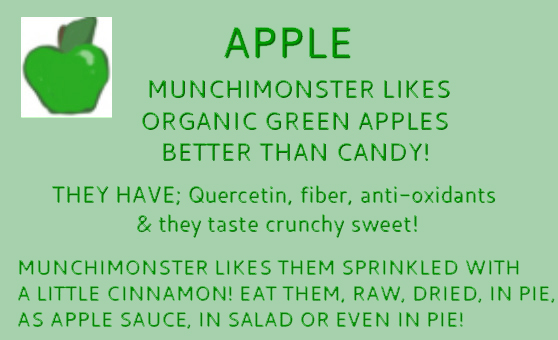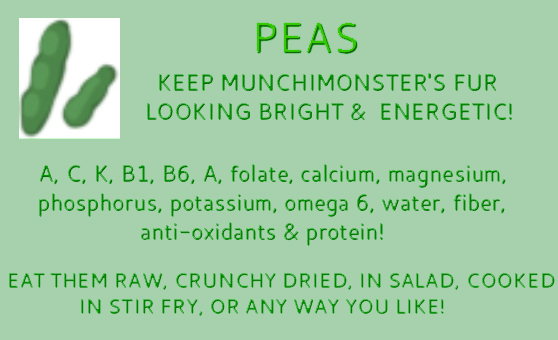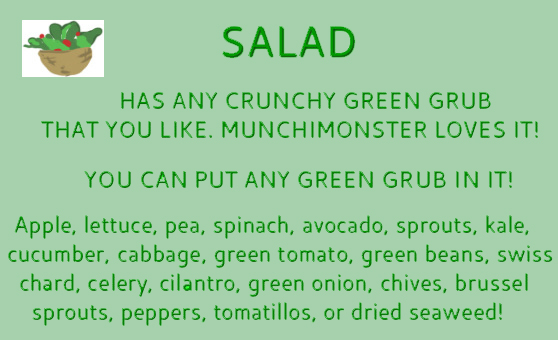 WHOLE GREEN GRUB IS NUTRITIOUS!
KIDS WHO EAT NUTRITIOUS GREEN GRUB & MUNCHERCISE HAVE BETTER SCHOOL GRADES, MORE ENERGY, HAPPIER FAMILIES & MORE FUN THAN KIDS THAT SIT AROUND AND EAT TOO MUCH KRUD GRUB. MUNCHIMONSTER EATS GREEN GRUB EVERY DAY!
MAKE SURE YOUR SCHOOL LUNCH MUNCHBOX HAS NUTRITIOUS GREEN GRUB IN IT!
SEE IF YOU CAN FILL IN THE BLANKS!
1-_____________ IS ONE REASON WHY MUNCHIMONSTER NEVER GETS SICK!
it is an Anti-carcinogen, blood purifier, immune system builder & regulates blood pressure.
it has Calcium 47%, B, C. E, & Betacarotene, Copper, zinc, phosphorus, magnesium, chromium & fiber ( roughage ).
2-_____________ MUNCHIMONSTER POPS ORGANIC GREEN GRAPES IN HIS MOUTH WHILE VINE SWINGING!
THEY ARE High in Manganese & Vitamin K AND ARE An anti-oxidant & anti-inflammatory
3-_____________ KEEP MUNCHIMONSTER'S FUR LOOKING BRIGHT & ENERGETIC!
PEAS HAVE: A, C, K, B1, B6, A, folate, calcium, magnesium, phosphorus, potassium, omega 6, water, fiber,
anti-oxidants & protein.
4-_____________ MUNCHIMONSTER LIKES ORGANIC GREEN APPLES BETTER THAN CANDY!
THEY HAVE; Quercetin, fiber, anti-oxidants & they taste sweet!
5-_____________ GIVES MUNCHIMONSTER STRONG BONES & A HEALTHY HEART TO LOVE ALL KIDS!
ITS Good for eyesight, strong heart muscle, strong bones & protection from the sun's UV rays.
Potassium, manganese, zinc, magnesium, calcium & coumarins. Folate, niacin, A, B6, C, E, K & fiber.
6-_____________ MAKES MUNCHIMONSTER HAPPY!
IT Lowers stress, promotes calmness, keeps joints bending, boosts immune system & reduces inflammation. IT HAS:
Amino acids, boron, calcium, folate, inositol, iron, magnesium, manganese, potassium, selenium, sulfur, zinc. A & B-2-3-5-6.
7-_____________ HAS ANY CRUNCHY GREEN GRUB THAT YOU LIKE. MUNCHIMONSTER LOVES IT!
You can put any Green Grub in it! Apple, lettuce, pea, spinach, avocado, sprouts, cucumber, cabbage, green tomato & beans!
YOU CAN EAT GREEN GRUB RAW, _____________, BAKED, SOLAR-COOKED, OR JUICED!
MAKE SURE YOUR SCHOOL MUNCHBOX CONTAINS GREEN GRUB!
GROW YOUR OWN GREEN GRUB! CLICK ON THE AWARD CERTIFICATE PAGE FOR DETAILS!
MUNCHIMONSTER DOES 3 THINGS EVERY DAY:
1- EATS GREEN GRUB – NUTRITIOUS FOOD MAKES KIDS HEALTHIER!
2- MUNCHERCISES! – EXERCISE MAKES KIDS SMARTER & ENERGIZED!
3- SWINGS ON A VINE – VINE SWINGING MAKES HIM LAUGH OUT LOUD!